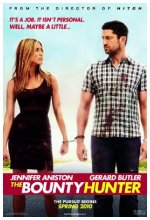 Milo (Gerard Butler) is a bounty hunter whose latest gig is a doozy, as he finds out too late that the bail-skipper he must chase down is his own ex-wife, Cassidy (Jennifer Aniston), and she has no intention of coming in without a fight. Complicating matters, Cassidy's wannabe-boyfriend (Saturday Night Live's Jason Sudeikis) joins the chase in this high-octane comedy from director Andy Tennant (Hitch).
Action, Comedy, Romance

10










This movie was funny. I thought the storyline was good. Even though there were a few corny parts, it was definitely worth watching.
27










Jennifer Aniston and Gerard Butler have enough chemistry to carry off a rocky relationship, but fail at convincingly portraying love. Consequently the first part of the movie was funny and charming, and the last half was corny and a bit dry.