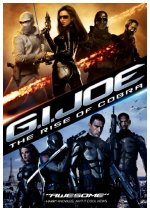 G.I. Joe: The Rise of Cobra
2009










Dennis Quaid, Channing Tatum, Sienna Miller and Marlon Wayans star in this action-packed G.I. Joe adventure, in which Hawk, Ripcord, Heavy Duty and the rest of the elite special mission force set out to stop evil arms dealer Destro (Christopher Eccleston) and his minions. Rounding out the star-studded cast are Brendan Fraser, Rachel Nichols, Adewale Akinnuoye-Agbaje, Ray Park, Joseph Gordon-Levitt, Saïd Taghmaoui and model Karolina Kurkova.
Action, Adventure, War

10










A below average action movie with no involved plot movement that hardly keeps you interested. With poor acting and writing, and *cough* Marlon Wayans, the movies only redeeming quality was it's eye catching special effects.
27










A poor quality action movie, rescued from a one star rating by an excellent performance by Sienna Miller.