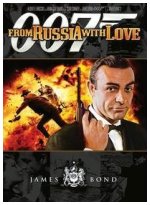 From Russia with Love
1963










Bond is back -- and so are the bullets, beauties and bad guys! You'll be shaken and stirred by Sean Connery's second outing as James Bond, which has him paying the price for his previous adventure when SPECTRE lured him into a deadly trap to avenge the death of Dr. No. Will Bond's mission to find a Russian coding machine be his last? Don't bet the bank on it!

Action, Classic, Spy, Thriller
27










Much more cliche than
Dr. No
, with a gratuitous catfight. Bond starts getting some small gadgets from Q.