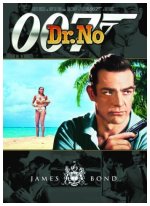 On a mission in Jamaica, suave Agent 007 (Sean Connery) -- in the first of the James Bond films -- finds mad scientist Dr. No (Joseph Wiseman) plotting to derail the U.S. space program and take over the world, pushing Bond into an intimate alliance with the sexy Honey Ryder (Ursula Andress). With the help of Felix Leiter (Jack Lord), Bond battles seductive double agents and sinister villains in his quest to save the human race.

Action, Classic, Spy, Thriller
27










It's fun to see Bond as an agent, before all the gadgets. Sean Connery is the best Bond, and the locations in this film are great. Eunice Gayson isn't good, and the car chase is crude but expected for a film this old.