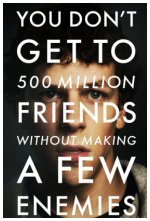 David Fincher's biographical drama chronicles the meteoric rise of Facebook CEO Mark Zuckerberg (Jesse Eisenberg) from Harvard sophomore to Internet superstar, examining his relationships with co-founder Eduardo Saverin (Andrew Garfield) and Napster founder Sean Parker (Justin Timberlake). Aaron Sorkin penned the screenplay based on Ben Mezrich's best-seller The Accidental Billionaires: The Founding of Facebook.
Book, Drama

10










Never let the truth get in the way of a good story seems to be Fincher's mantra. That being said, the story is indeed entertaining and makes for a fun watch. Take it with a grain of salt (or five), and enjoy the ride.
27










Aside from the truth or fiction behind this film, Jesse Eisenberg played the role well, and the script was entertaining. I wasn't a big fan of Justin Timberlake's performance, but it was passable.