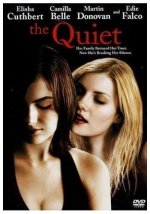 After losing her father, deaf and mute teen Dot (Camilla Belle) goes to live with her dysfunctional godparents (Edie Falco and Martin Donovan) and their rebellious daughter, Nina (Elisha Cuthbert). Before long, each is entrusting the silent Dot with disturbing, shameful secrets they assume will be kept private. Little do they suspect that Dot harbors a big secret of her own in this visceral drama directed by Jamie Babbit.
Drama, Indie, Mystery
27










Decently acted (Elisha Cuthbert plays a conflicted character well) with a fairly predictable story and ending. For the most part the plot was good, though at times it seemed a bit trivial - not events worthy of being filmed.