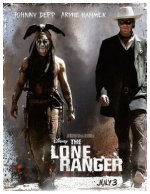 It's a wild ride of high-velocity action, explosions and gunfights that brings the famed masked legend to life through brand-new eyes. The Lone Ranger (Hammer), the last of his kind, teams with Tonto (Depp), a dark and mysterious vigilante, to seek vengeance after justice has failed them. It's a runaway train of epic surprises, as these two unlikely heroes must learn to work together before the ultimate showdown between good and evil explodes.
Action, Superhero, Western
27










Rarely do I dislike a movie with Johnny Depp in it, but this one was incredibly unexciting. Somehow even with a number of explosions and runaway trains it managed to be bland and unengaging.