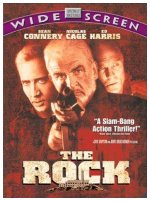 When a disgruntled ex-Marine (Ed Harris) seizes Alcatraz prison, taking hostages and threatening to blanket San Francisco with nerve gas, the feds send in a strike force led by a chemical-weapons expert (Nicolas Cage) and an ex-con (Sean Connery) who broke out of "the Rock" years earlier. Cage and Connery won an MTV Movie Award for Best On-Screen Duo in this pumped-up action-thriller from crowd-pleasing director Michael Bay.
Action, Adventure, Thriller

11










Maybe a little bit unrealistic plot, but highly entertaining and enjoyable, very much worth a watch.