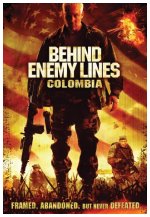 Behind Enemy Lines: Colombia
2009










To clear their names, a squad of Navy SEALs heads to South America to rescue a hostage but must hole up inside enemy territory when their mission goes wrong. The only way to escape is to fight their way out -- but launching an offensive against Colombian Special Forces won't be easy. Helmed by Tim Matheson, this direct-to-video action adventure stars Joe Manganiello, Keith David, Channon Roe and Steven Bauer.

Action, Adventure, Thriller, War

11










This was a nice action packed one with a ton of explosions. If you are into watching heavy gun fighting with a plot that has a twist to it, this is your movie.
27










This felt more like
The Bourne Identity
instead of
Behind Enemy Lines
- except the acting was worse. They added fake gadgets and knife fights between people with guns in an attempt to somehow make it more exciting.