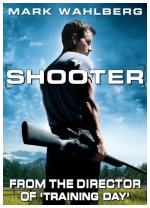 An expert marksman (Mark Wahlberg) is coaxed out of seclusion by colleagues who need his help in preventing a plot to kill the president. But he realizes he's been set up when he's framed for the assassination attempt. Can he elude the law long enough to bring the real culprits to justice? Danny Glover and Michael Peña (World Trade Center) co-star in this political thriller based on a novel by Stephen Hunter.
Action, Book, Drama, Thriller

11










One of my favorite movies of all time. The plot is complex and packed with heavy action and suspense. The acting is supreme with a lot of character.