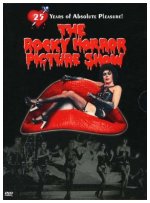 The Rocky Horror Picture Show
1975










This notorious horror parody -- a fast-paced potpourri of camp, sci-fi and rock 'n' roll, among other things -- tracks the exploits of naïve couple Brad (Barry Bostwick) and Janet (Susan Sarandon) after they stumble upon the lair of transvestite vampire Dr. Frank-N-Furter (Tim Curry). The film -- a bizarre musical co-starring Meat Loaf and Richard O'Brien -- bombed in its initial release but later gained a cult following at midnight showings.
Classic, Comedy, GLBT, Musical, Spoof

10










This is quite possibly the worst 90 minutes I've ever been subjected to. The first 3 minutes are mildly amusing, so I give it half a star. The last third of the movie felt like hours. I need a shower.