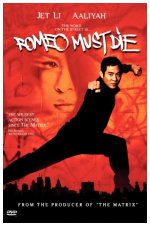 In an update of one of William Shakespeare's classic tragedies, two warring gang families (one African-American, the other Chinese) maneuver for bragging rights to the Oakland, Calif., docks. It's the perfect set piece for martial-arts star Jet Li to snap a few bones while trying to uncover a trail of deceit that leaves most of the warring factions dead … or worse!
Action, Adventure, Martial Arts
27










D.B. Woodside is a bit of a goofball, which brings the movie down a bit - the rest of the cast is pretty good though.