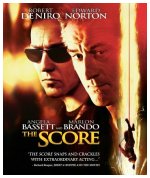 In director Frank Oz's tense and deftly acted crime drama, ready-to-retire safecracker Nick (Robert De Niro), flamboyant fence Max (Marlon Brando) and aspiring, talented -- but volatile -- thief Jackie (Edward Norton) team up to rob the Montreal Customs House. The score could put them all on easy street, but Nick is growing increasingly uncomfortable with the operation, mostly because things with Jackie don't seem quite right.
Action, Drama, Thriller

11










I loved this movie, the acting was really good. The plot was pretty good, this was really enjoyable to watch.