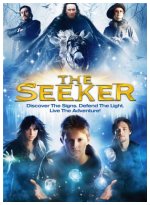 The Seeker: The Dark Is Rising
2007










Just as he turns 14, young Will Stanton (Alexander Ludwig) learns that he's the last of a race of paladins known as "the Light" who are dedicated to beating back the forces of darkness and their malevolent leader, the Rider (Christopher Eccleston). As Will travels through time gathering the powerful artifacts that will give rise to the ultimate showdown, he must keep the Rider at bay. Ian McShane and Jonathan Jackson co-star.
Action, Adventure, Book, Drama, Fantasy, Sci-Fi
27










A passable kids fantasy, but I preferred
The Golden Compass
and
Inkheart
as they had a lot more atmosphere and better flow/acting.