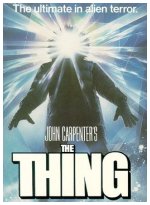 Scientists working in Antarctica are forced to abandon their research after a helicopter crashes near their camp, bringing a lone dog into their midst. But the plot thickens when the otherworldly canine changes form in the middle of the night. As it turns out, the dog is a shape-shifting alien that can attack animals -- and unsuspecting humans. Kurt Russell stars in this creepy John Carpenter-directed remake of the 1950s classic.
Fantasy, Horror, Sci-Fi
27










If you can get past the first 20 minutes of nothing happening this is a good horror film. The only thing I disliked a bit was the open ending.