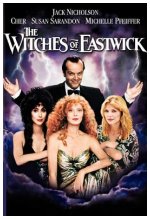 The Witches of Eastwick
1987










In this scandalously sexy, eye-popping feast, three bored friends (Cher, Michelle Pfeiffer and Susan Sarandon) can't resist the devilish charms of the new man in town (Jack Nicholson). But the ladies soon discover that there's a surprise in getting what you wish for. Nicholson is intense and funny in his over-the-top performance as Satan.
Book, Comedy, Drama
27










Jack Nicholson is dirty and amusing as usual, though I prefer the way Paul Gross plays the role in the TV show remake
Eastwick
. Overall a decent cast and a passable story - and it does explain a few story gaps in the TV series.