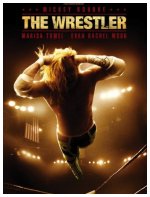 Mickey Rourke (in a Golden Globe-winning, Oscar-nominated role) stars as retired professional wrestler Randy "The Ram" Robinson, who returns to the ring to work his way up the circuit for a final shot at defeating his longtime rival. Along the way, he tries to reconnect with his estranged daughter (Evan Rachel Wood) while exploring a relationship with an aging stripper named Cassidy (Marisa Tomei, who also earned Golden Globe and Oscar nods).
Drama, Indie, Sports

10










Mickey Rourke is back. This movie cut me to my heart. sad but honest in its approach. I read that rowdy Roddy piper cried after watching this movie. I love it's focus on the main character.