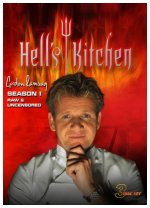 The heat is on as internationally celebrated chef Gordon Ramsay puts a group of aspiring restaurateurs through the wringer to determine which one will win the chance to become head chef at an elegant Los Angeles eatery. To achieve their dream, the contestants in this reality competition will have to live through a nightmare in the kitchen of Ramsay's Hollywood restaurant, as he makes their lives miserable to weed out the weaklings.
Reality, TV

9










One of the only reality TV shows I actually watch; every season in fact. Check it out if you want to see Gordon Ramsay belittle the contestants.
27










Gordon Ramsay is excellent - makes this cooking show very entertaining.