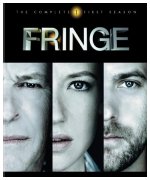 Searching for answers after a plane inexplicably lands with all its passengers and crew dead, FBI agent Olivia Dunham (Anna Torv) tracks down eccentric Dr. Walter Bishop (John Noble), a brilliant but institutionalized scientist, to help her solve the mystery. But she'll need the help of his estranged son, Peter (Joshua Jackson), in order to connect with Bishop, and the three soon team up to explore paranormal phenomena in this sci-fi series.
Fantasy, Mystery, Sci-Fi, TV
27










Very much like
The X Files
but with more "science" and a worse cast.