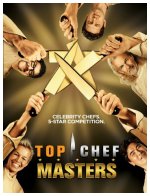 Each episode of Top Chef Masters holds two challenges for the chefs. The first is a Quickfire Challenge which tests their basic abilities. The second is an Elimination Challenge designed to test the versatility and invention of the chefs as they take on unique culinary trials such as working with unusual and exotic foods or catering for demanding clients.
27










This show feels bland compared to
Top Chef
because they use a single-elimination tournament, so instead of following the cast through the entire season you see each player in only a few episodes.