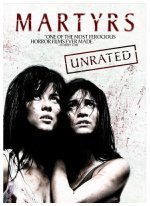 Years after she escaped from an icy torture chamber in an abandoned slaughterhouse, Lucie (Mylène Jampanoï) enlists the help of her closest friend, Anna (Morjana Alaoui), to track down the family who tormented her and exact her revenge. But when Lucie and Anna investigate further, they discover that they've only scratched the surface of an unspeakably vile secret organization. Pascal Laugier directs this ultraviolent horror film.
Foreign, Horror

10










The acting was good, but this movie was a complete waste of time. A snuff film in the tradition of saw.If you like gore this is for you, but the plot was weak. just terrible.
27










Foreign, dubbed with English. The description is misleading - there isn't much revenge or discovery of secrets - most of the film just consisted of torture. The production values were fine, and the point of the movie was not revealed until the end.

14










Martyrs is a revenge film, a soul crushing torture film, and a glimpse into what people will do to prove that the "other side" exists. For the most part it does its job but at times it does tend to feel disjointed, which knocks it down a peg.