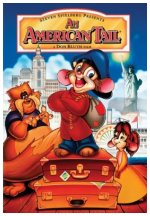 Already a classic, this 1986 animated adventure begins in Russia, where a young mouse named Fievel (voiced by Phillip Glasser) and his family decide to migrate to America, a "land without cats," at the turn of the 20th century. But somehow, Fievel ends up in the New World alone and must fend off not only the felines he never thought he'd have to deal with again but also the loneliness of being away from home.
Adventure, Animation, Children

14










Don Bluth's animated classic about a Russian mouse that has lost his family on his way to America, still holds up to this day. The animation is some of the best of its era, the music (by James Horner) is top notch and the story is timeless.