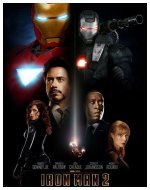 Wealthy inventor and former weapons maker Tony Stark (Robert Downey Jr.) continues to fight crime as his alter ego, Iron Man, taking on villains intent on destroying humanity in Jon Favreau's action-packed superhero sequel based on Marvel comic book characters. But Stark's battle with the bottle may be his toughest challenge yet. Don Cheadle co-stars as Col. James Rhodes, with Samuel L. Jackson reprising his role as Nick Fury.

Action, Adventure, Superhero, Thriller
Click here to view 2 long reviews of this item

15










Even better than the original. More action, more good characters, and more star power enhance the original magic provided by Downey and Paltrow. Humorous characters on both sides of the good and evil formulary equals lots of fun.

4










Great second installment of Iron Man franchise. Rourke & Rockwell are the "anti-matter" to Downey & Cheadle, and just as much fun.

8










Enjoyable, despite not having seen the first one