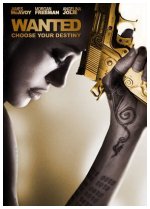 Doormat Wesley Gibson (James McAvoy) discovers that his recently murdered father -- who Wesley never knew -- belonged to a secret guild of assassins. After a leather-clad sexpot (Angelina Jolie) drafts Wesley into the society, he hones his innate killing skills and turns avenger. Chicago is the backdrop for this hyperkinetic thriller also starring Morgan Freeman as the enigmatic figure leading the brotherhood of executioners.
Action, Book, Drama, Superhero, Thriller
27










James McAvoy and Angelina Jolie were excellent together while Morgan Freeman was solid, but not great. The second half was a bit slower, but the fun action sequences in the first half totally compensated.

4










good and not bad :)

9










Horribly bad movie. A hero story without a hero. An action story with stupid over the top action that leaves you thinking "Hu? That's just stupid!" Not really sure who it's for?