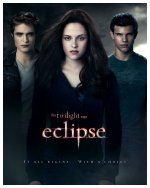 The Twilight Saga: Eclipse
2010










Danger stalks Seattle with a rash of mysterious killings that have Bella (Kristen Stewart) feeling less secure than ever in the third installment of this teen fantasy series based on the best-selling books by Stephenie Meyer. With a malevolent vampire continuing her quest for revenge from the sidelines, the human Bella must reconcile her love for Edward (Robert Pattinson), a vampire, and her growing feelings for Jacob (Taylor Lautner), a werewolf.

Book, Drama, Horror, Supernatural, Thriller

10










Wholly entertaining and draws you into the emotional state of the characters.