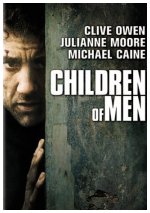 Alfonso Cuaron directs this Oscar-nominated film version of P.D. James's classic dystopian novel, a futuristic drama set in a world in which humans have lost the ability to reproduce and subsequently face certain extinction. Things change when a single woman mysteriously becomes pregnant, prompting a conflicted government bureaucrat (Clive Owen) and his ex-wife (Julianne Moore) to join forces to protect her. Michael Caine co-stars.
Book, Drama, Foreign, Sci-Fi, Thriller

16










Very strong movie, violent and powerful throughout, holds no punches but still poetic, not overbearing. Wonderful work on the long cover-to-cover scene.

10










The concept, the acting and everything in between is just great. At times the movie gets "fall asleep in a theater" boring but, if you stick it out, it's great and worth it.