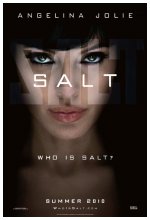 After she's accused of being a Russian sleeper spy, rogue CIA agent Evelyn Salt (Angelina Jolie) goes on the run, using every tactic, accent and disguise she knows to elude her pursuers, clear her name and protect her husband. Her supervisor, Winter (Liev Schreiber), buys her story, while counterintelligence officer Peabody (Chiwetel Ejiofor) decidedly does not and will do anything to stop her in this fast-paced, intrigue-filled spy adventure.
Action, Spy, Thriller

10










You'd think that with so much action, the movie would at least be tolerable. With Jolie in drag, an appallingly awful plot, and acting so hit or miss it's actually confusing, do yourself a favor and set it on fire should a copy ever cross your path.

10










Sucked. Only decent thing about the movie is Angelina Jolie's lips.
27










While the acting is decent and it has plenty of action for a thriller - it is also obvious half way through the film how it will end. This pushes the movie more into the spy action category, and
From Paris with Love
did a much better job in that genre