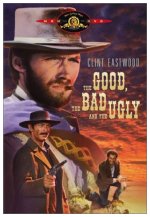 The Good, the Bad and the Ugly
1966










While the Civil War rages between the Union and the Confederacy, three men -- a quiet loner (Clint Eastwood), a ruthless hit man and a Mexican bandit -- comb the American Southwest in search of a strongbox containing $200,000 in stolen gold. In his third classic spaghetti Western with Eastwood, director Sergio Leone continues to shake up the genre with stylish photography, a hefty dose of cynicism and an instantly recognizable score.
Action, Classic, Western

16










The foremost Western. Intensely paced, witty and harrowing, wide range of set pieces and characters. Eastwood at his best.