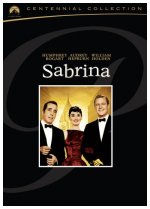 Industrious tycoon Linus Larrabee (Humphrey Bogart) has no room for love in his appointment book until a burgeoning romance between his libertine brother, David (William Holden), and the family chauffeur's daughter, Sabrina Fairchild (Audrey Hepburn), jeopardizes Linus' pending business merger. At that point, the workaholic CEO clears his calendar to derail the romance. This Billy Wilder classic collected an Academy Award for Best Costume Design.
Classic, Comedy, Romance
27










An excellent classic film - charming and humorous. Humphrey Bogart was the weakest but still did a decent job playing the stodgy business tycoon.