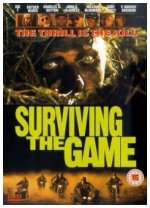 Mason (Ice-T) is a man down on his luck with nothing to lose when he's approached to lead a group of wealthy hunters on an expedition in the Pacific Northwest. But things get really twisted when Mason discovers the group isn't after wild animals -- they're after him. Ernest R. Dickerson directs this action-packed thriller co-starring Rutger Hauer, Charles S. Dutton, Gary Busey and F. Murray Abraham.
Action, Adventure, Thriller
27










Nothing special about this straight-up action movie.