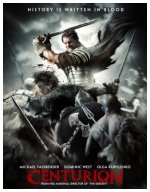 In 2nd-century Britain, Roman fighter Quintas Dias (Michael Fassbender) is the lone survivor of a Pictish attack on a Roman frontier post. Eager for revenge, he joins the Ninth Legion -- under General Virilus (Dominic West) -- and journeys north on a mission to destroy the Picts. Writer-director Neil Marshall's rousing sword-and-sandals adventure also stars Olga Kurylenko as the beautiful Pict warrior Etain.
Action, Adventure, Thriller
27










Carries some of the flavor of
King Arthur
, though the characters in Centurion felt a bit more shallow except for Olga Kurylenko. This is really more of a Thriller/Drama than an action film - though there are a few sequences with lots of fake blood.