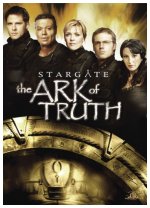 Stargate: The Ark of Truth
2008










This feature-length saga continues the story line of the epic cult favorite television series. As the Ori prepare to attack Earth, the SG-1 team searches for the Ark of Truth, a powerful weapon said to be capable of defeating these potent enemies. Meanwhile, the International Oversight Committee has a secret agenda that becomes an even greater threat to SG-1. Michael Shanks, Claudia Black, Ben Browder, Amanda Tapping and Christopher Judge star.

Action, Adventure, Fantasy, Sci-Fi
27










Competent action movie, slightly stiff in places.