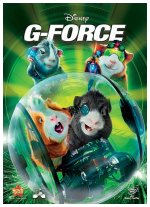 When a billionaire sets out to take over the world through a diabolical scheme involving household appliances, the U.S. government sends in the only special forces unit capable of handling the job -- a squad of highly trained guinea pigs. Will Arnett, Bill Nighy and Kelli Garner star in this adventure, which features top voice talent from Nicolas Cage, Penélope Cruz, Steve Buscemi and Tracy Morgan.

Adventure, Animation, Children
27










Cute kids movie, but nothing more.