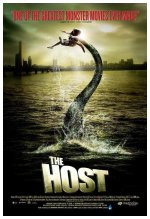 In Seoul's River Han, a giant mutant creature has developed as a result of toxic chemical dumping. When the squidlike monster scoops up the teenage granddaughter of humble snack-bar owner Hie-bong (Hie-bong Byeon), he races to track down the murderous beast. With no help from the authorities, who are convinced the girl is already dead, Hie-bong and his family will have to band together to save her -- and possibly the entire city.
Action, Adventure, Foreign, Horror
8










South Korea's version Cloverfield without the whole shaky cam thing going on. Great story and acting. Directed by Joon-ho Bong, keep a look out for this guy!