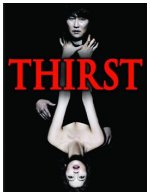 When the smoke clears from a failed experiment to find a cure for a fatal disease, a devout priest finds himself forever changed. Specifically, he's a vampire -- but that isn't the only thing that's different. Now he's also willing to commit adultery with the wife of his childhood friend, a sin he never would have considered before. Kang-ho Song, Ha-kyun Shin and Ok-bin Kim co-star in this horror offering from Korean director Chan-Wook Park.
Foreign, Horror

14










Thirst is a high concept vampire film from the director of Oldboy (Chan-wook Park). Unfortunately while the concept of a priest becoming a vampire is fantastic, the execution is scattershot and the back half is near unwatchable.
No comments found, be the first!