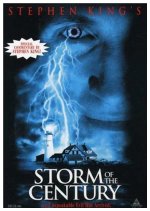 Storm of the Century
1999










Just as a devastating snowstorm hits a small island off the coast of Maine, a creepy stranger (Colm Feore) arrives in town with detailed knowledge of the residents' closest-kept secrets and an unspeakable demand of the townspeople. The local sheriff (Tim Daly) fights back, but even from a jail cell the man seems to wield lethal, supernatural powers. Stephen King penned this Emmy-winning TV miniseries also starring Debrah Farentino.
Supernatural, TV, Thriller
27










Suspenseful and interesting, as are most Stephen King stories. Unfortunately the film is also four hours long, when two would have sufficed to tell the story properly.

11










I loved the art on the DVD case to this movie so i got it, and enjoyed it. The plot is a wild one that's very unique. The acting was decent with a classic ending.