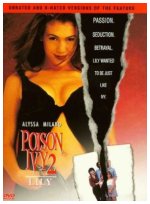 Anne Goursaud directs this sexy thriller, a sequel to the Drew Barrymore vehicle Poison Ivy. After moving to Los Angeles to attend art school, the shy and sheltered Lily (Alyssa Milano) discovers the secret diary of a girl named Ivy. The more Lily reads, the more enthralled she becomes with Ivy's dark and self-serving philosophy of life. But when she frees her own dark side, it begins to take over -- and her life spins out of control.
Thriller
27










An incoherent mess with no relation in story or theme to the original
Poison Ivy
.
No comments found, be the first!