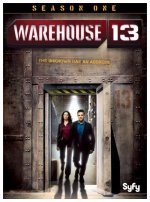 After saving the president's life, Secret Service agents Pete Lattimer (Eddie McClintock) and Myka Bering (Joanne Kelly) receive orders to report to a top-secret location. They soon discover that their new jobs entail guarding mystical items contained in Warehouse 13. They also must monitor unusual events all over the country and track down additional mysterious articles for government safekeeping in this supernatural action series.
Action, Adventure, Fantasy, Sci-Fi, TV
27










A great cast by the middle of the first season. Not as serious as
The X-Files
with a focus on historical artifacts with magical properties - rather than paranormal beings. Good humor and chemistry between the characters.