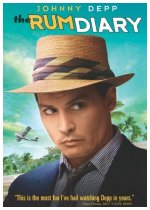 Eager to flee his humdrum life in 1950s New York, booze-loving journalist Paul (Johnny Depp) moves to Puerto Rico and begins writing for a local rag, but his life becomes unhinged when he falls for a gorgeous woman (Amber Heard) and clashes with her shifty fiancé (Aaron Eckhart). Written and directed by Bruce Robinson, this adaptation of Hunter S. Thompson's early novel also stars Richard Jenkins as Paul's editor.
Book, Drama
27










More biography and less
Fear and Loathing in Las Vegas
than I was expecting - but still interesting. Giovanni Ribisi has a small part but is excellent and of course Amber Heard looks stunning.