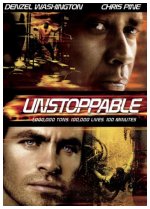 It's a nail-biting race against time as an unmanned train carrying a load of lethal chemicals speeds out of control, and a conductor and engineer do everything in their power to keep it from derailing and killing tens of thousands of people. Denzel Washington leads the cast in Tony Scott's tough-minded action thriller, in which a terrible circumstance forces a couple of ordinary men to become extraordinary heroes.
Action, Thriller

15










Expected a lot and this film delivered. Dawson and Washington are standouts. Started a bit slow, so wasn't sure if it was going to live up to the hype, but my heart was racing until the end. Not quite in the same league as Speed, but close!

3










I was on the edge of my seat most of the time.

6










Great movie, loved the action, and what was going on throughout the entire movie, would recommend to friends.
27










Rosario Dawson and Denzel Washington were excellent - I never expected a movie about a runaway train to be good, much less a gripping thriller. The whole cast was good, and the script was flawless.