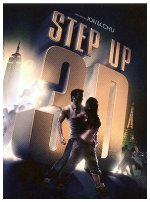 Released in movie theaters as the first-ever dance film in 3-D format, this continuation of the Step Up saga centers on a motley crew of street dancers who take on a talented squad of hip-hoppers with the help of an NYU freshman named Moose (Adam G. Sevani). Rick Malambri and Sharni Vinson co-star as well as Stephen Boss -- a freestyle dancer best known as the fourth-season runner-up on "So You Think You Can Dance."

Drama, Romance
27










The film was paced pretty well, except for a really long-winded (9 minute) dance battle at the end. The story was rougher than
Step Up 2: The Streets
, but the dance sequences were better. There were some obvious token shots for 3D.