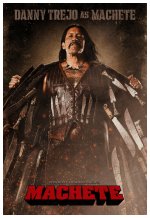 Hired to assassinate a politician, vigilante and ex-Federale Machete (Danny Trejo) nearly dies when a sniper shoots him during the job. Out for revenge, he's joined by a reluctant old buddy (Cheech Marin) who's become a pacifist priest. Written and co-directed by Robert Rodriguez, this homage to exploitation films based on his fake trailer in Grindhouse co-stars Robert De Niro, Michelle Rodriguez, Lindsay Lohan, Jessica Alba and Steven Seagal.
Action, Adventure, Thriller
27










Vaguely interesting immigration debate forms the backbone for this Tarantino-esque B-movie. A lot of big names delivering laughable lines and over the top performance - a serious film, this is not.