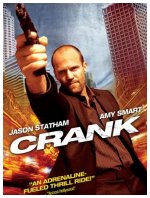 Hit man Chev Chelios (Jason Statham) tears through the streets of Los Angeles in a race to save his own life and his girlfriend, Eve (Amy Smart), in this ticking time bomb of a thriller from writer-director team Mark Neveldine and Brian Taylor. The freelance killer is poisoned when a mob job goes wrong, and the clock starts ticking when Chelios learns he can elude death if he keeps his adrenaline pumping.

Action, Adventure, Thriller
27










Full of action, but rather ludicrous at the same time.
The Transporter
series is far superior.