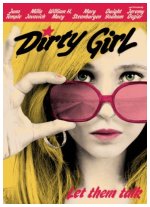 When promiscuous teen Danielle (Juno Temple) is sentenced to special ed for making sexually charged comments in class, she befriends gay, overweight Clarke (Jeremy Dozier), who agrees to join her on a search to find her father -- in part, so he can get away from his own. Milla Jovovich, Mary Steenburgen and William H. Macy co-star in this quirky coming-of-age tale of independence, adolescence and acceptance.
Comedy, Indie
27










Initially vulgar and melancholy, yet decently acted with an amazing cast. An odd mix of homosexuality and homophobia ruins the flow a bit, but it's still far better than drivel like
Easy A
. Has heart, but not a film for the easily offended.