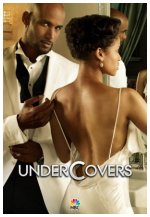 CIA agents Steven and Samantha Bloom (Boris Kodjoe and Gugu Mbatha-Raw) quit the spy game and open a low-key catering company in California, but when a friend and fellow agent (Carter MacIntyre) disappears, the restless ops come in from the cold to save him. The opening season of this espionage drama created by J.J. Abrams and Josh Reims finds the duo globe-trotting once again as they rustle up leads on a Russian arms dealer.
Action, Adventure, Drama, TV
27










Not bad, but not great either - I liked the show best during the first episode before they introduced all the secondary characters. The main characters have good chemistry, not so much with the rest of the cast.