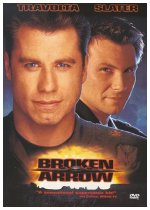 When rogue stealth-fighter pilot Vic Deakins (John Travolta) deliberately drops off the radar while on maneuvers, the Air Force ends up with two stolen nuclear warheads -- and Deakins's co-pilot, Riley Hale (Christian Slater), is the military's only hope for getting them back. Traversing the deserted canyons of Utah, Hale teams with park ranger Terry Carmichael (Samantha Mathis) to put Deakins back in his box. But can they pull it off?
Action, Adventure, Thriller, War

10










Doesn't have much to offer besides some thrills, some laughs at how ridiculous the film is and Travolta being over the top crazy as always.
27










Passable, though Christian Slater and Samantha Mathis aren't great, and Bob Gunton spent a lot of time whining like a little girl.