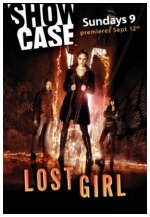 Lost Girl is a daring new series about mysterious young Bo, a succubus who drains the sexual energy of humans to feed, heal... and kill. Having survived for years alone, she now discovers she is one of the fae, creatures of legend and folklore who secretly feed off humans in myriad ways. Bo chooses a dangerous middle path between the humans and the fae while embarking on a personal mission to unlock the secrets of her origin.
Fantasy, TV

5










Bo & Kenzi are awesome! I love this show, great chemistry, a lot of fun, some sensuality, good acting, interesting characters, secrets and mythology. Point is, it's great, you should watch it!

4










Kenzie is awesome! And the series is wonderful. Xena + Buffy + Faes + sexy succubus + Kenzie... the heaven!
27










A guilty pleasure - the series starts with some terrible acting, yet is enjoyable. Ksenia Solo nails her role as the hyper, sarcastic sidekick. Pleasantly, it doesn't over-use special effects. The plots remind me of
Sanctuary