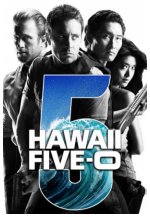 Thirty years later, CBS revives the iconic 1970s police drama set in lush Hawaii with a new crop of actors playing familiar characters from Honolulu's elite criminal investigation unit led by Det. Steve McGarrett (Alex O'Loughlin). Supporting McGarrett closely in his bare-knuckle campaign against major crime in the islands are no-nonsense cops Danny "Danno" Williams (Scott Caan) and Chin Ho Kelly (Daniel Dae Kim).
27










A decent cast, most recognizably Grace Park from
Battlestar Galactica
for sci-fi fans. While the show is not particularly good or bad, I wish they would stop marketing these as remakes of old series - especially when much of the feel is different.