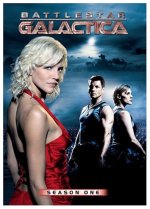 Battlestar Galactica
2004










Join Adama (Edward James Olmos) and Laura (Mary McDonnell) as they lead a ragtag fleet of human survivors (from the destroyed colonies of Kobol) in search of a mythical planet called Earth. But beware, the robot race of Cylons is in hot pursuit … and it seems nothing will stop them. Based on the original TV series from 1978-80, this 21st-century update was broadcast on the Sci-Fi Channel and instantly won a legion of admiring fans.

Drama, Fantasy, Sci-Fi, TV

10










This brilliant sci-fi drama holds strong up until the last season or two. The series is smart, sexy and had the best toys on TV for half a decade. It loses its way near the end, but you'll probably want to watch all the way through.
27










A fairly decent sci-fi show following a colony of humans through space as they contend with the robot race trying to destroy them.