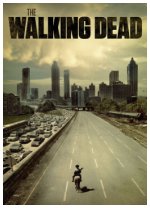 After awakening from a coma, police officer Rick Grimes (Andrew Lincoln) learns that a plague has transformed most of mankind into ravenous zombies. Against all odds, he desperately searches for his family and sets out to deliver them and other survivors to safety. Based on the comic books by Robert Kirkman and Tony Moore, the series co-stars Steven Yeun as an expert scavenger and Sarah Wayne Callies as Rick's wife.

2










This show is to zombies what "Heroes" was to terrible television. Watch at your own risk, or if you really need more zombies in your life.

10










This show isn't perfect, but it's entertaining and allows for more aspects of the zombie apocalypse to be explored than a 2 hour movie. Unfortunately that time isn't used as well as it could be.
27










Passable, but the beginning is exceptionally melodramatic, and there seems to be a lot of overacting and exaggerated tension.
Survivors
and the
28 Days Later
series are much better alternatives.